Prague anarchist bookfair is taking place this weekend. Two days full of books and special guests – among those speaking are anarchist from places where revolts and uprisings took palce recently, like Bosnia, Spain, Brazil and Ukraine, as well as people from CrimethInc etc.. Complete set of lectures follows, all info you can find here: http://anarchistbookfair.cz/english/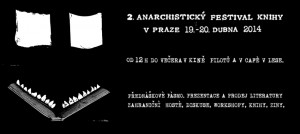 Lecture program


Saturday
12:30
Support-group Solidarity Against Repression Vienna – Criminalization of refugee protests in the broader context
In Austria there is a trial going on against eight people accused of being part of a criminal organization of "human smuggling." Some of the accused were involved in the refugee-movement Vienna, they were arrested end of July 2013, after big protests against the deportation of several activists of the refugee-movement. Since then they have been imprisoned, in March 2014 the trial has started.
This trial is a criminalization, not only of a strong anti-racist movement, but of all undocumented border-crossings. The lecture will inform about this ongoing trial in Vienna and bring it to a broader context of repression against social movements, racism, criminalization of migration and the fight for freedom of movement.
13:45
International ABC collective – Global week of sildarity with political prisoners
Opening speech "Why to start and what to do?" and discussion about a global week of solidarity with anarchist political prisoners, which is taking place on 23-30 August 2014
15:00
Amila (Bosnia) – Role of anarchism in Bosnian uprising
For the past 20 years in Bosnia and Herzegovina the media mainly covered news about workers' hunger strikes, corruption scandals,looting and crime. Although the political establishment in conjunction with religious leaders worked successfully on the national division of the community, all the while becoming enormously richer, on the 7th of February the citizens of BH proved them wrong.
Together, undivided, they insist on social changes and class equality without allowing politicization. As a result, the tactics have changed.Through the regime's media, political mafia has launched an attack of intimidation, infiltration, threats, insinuations and spins. These are just some of the things that citizens of BH have to deal with on a daily basis since the beginning of the protests.
Self-organization and more concrete measures were the next steps in the battle against the political mafia. It is a process from which we learn something new every day….
16:15
Anarchist from Ukraine – Ukraine uprising in the eyes of anarchists
Group of anarchists from Kyiev would talk and discuss on the recent events at Ukraine, analyse pros and cons, discuss the role or Pravij Sector, Putin and Russia etc.

17:30
CrimethInc (USA) – Anarchism and the New Global Revolts
From Brazil to Ukraine and Bosnia, rebellion is expanding in both exciting and frightening directions. What common threads connect the occupied squares and torched police cars? A rogue operative from the CrimethInc. Ex-Workers' Collective returns to Europe to offer reflections on anarchy in the new era of global revolt! This dynamic presentation will explore today's global uprisings in relation to policing, citizenship, and democracy. As economic crises necessitate ever wider policing, what new opportunities for revolt will arise? As conflicts over nationality and migration intensify, what alternatives can we present to liberal notions of citizenship? As trust in government erodes, what visions can anarchists offer beyond representative democracy? Our struggles must spread narratives and tactics that contest the legitimacy of these forces – and the future of freedom hangs in the balance.
Sunday
13:45
João Gabriel (Brasil) – Recent struggles and anarchist organisation in Brasil
Brazil has gone through a huge uprising in 2013, with hundreds of thousands on the streets in many cities. Bus fare rises and police brutality were the factors that sparkled the movement, which now developed into new struggles in the context of the opposition to the World Cup of
2014. Anarchism has played an important role in the struggles and it's now regaining strength in Brazilian mass movements, along with the increasing number and influence of anarchist organizations.
João Gabriel is a militant from the Coletivo Anarquista Bandeira Negra [Black Flag Anarchist Collective], an anarchist group from the south of Brazil which is part of the Coordenação Anarquista Brasileira [Brazilian Anarchist Coordination], which develops the current of especifismo, a latin-american approach to organized anarchism.
15:00
Anarchist Black Cross Belaruss – Presentation on the book "Going to Magadan"
Anarchist prisoner Ihar Alinevich was kidnapped by plaincloth cops in Moscow and illegally extradited to Belarus, where he was imprisoned for 8 years with incrimination in group hooliganism and intentional destruction of property. In 2013 the book "On the Way to Magadan" compiled of essays from his prison letters was released. Magadan is the city on the far East of Russia which during Stalin times was a major transit point for political prisoners sent to labor camps. Uhar Alinevich is making some comparisons of the prison conditions and his own state between Belarus and Magadan.
16:15
Peter Gelderloos (USA/Spain) – The struggle for the streets of Barcelona
In the last few years, Barcelona has experienced an explosion of self-organized activity in the streets, with general strikes, plaza occupations, assemblies, hospital occupations, transport and student strikes, eviction resistance, and riots. Anarchists have debated about the role they should play within these struggles, and employed different practices to encourage practices of self-organization and prevent the recuperation of these movements by political parties. A comrade from Barcelona will speak about some of the successes and failures in this process.
18:45
Panel discussion on the main topic of the bookfair ("how could anarchists contribute to current massive social revolts?") with Peter Gelderloos, CrimethInc, Amila from Bosnia and anarchist from Ukraine