(source: http://blog.occupiedlondon.org/2012/09/12/police-raid-and-evict-delta-squat-in-thessaloniki/)
At approximately 7:30 am on Wednesday 12.9, five riot police units and two jeeps of EKAM (the special suppressive anti-terrorist unit) stormed the anarchist squat Delta in Thessaloniki. At least 8 people were detained inside the building and another 7 of those who arrived in solidarity (of which three were released soon thereafter). A group of people in solidarity who gathered near the squat were surrounded and cut off by the police. The police have sealed off the building; an anarchist assembly has been called for 1pm at the Thessaloniki polytechnic.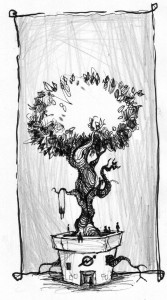 Evening updates (via contra-info)
An urgent anarchist assembly regarding the violent eviction of Delta squat took place from 1pm at the Polytechnic School of Thessaloniki, where nearly 100 people in solidarity, along with members of the squat's collectivity, decided to make the following actions:
i) Counter-information PA's gathering today, 12/9, in Kamara at 18.30, awaiting more information about the arrested comrades.
ii) Protest rally outside the Thessaloniki police headquarters at 21.00, in case the arrestees will still be held captive.
iii) Solidarity gathering at Thessaloniki courts on 13/9, if indeed the arrestees will appear before public prosecutor tomorrow.
iv) Next open assembly to organize solidarity actions on 13/9 at the Polytechnic School of Thessaloniki at 18.00.